Goodies Tour Merchandise
In early 2005 The Goodies launched their first ever live stage show at The Big Laugh Comedy Festival in Sydney, Australia. The Festival teamed withPlaybill Merchandising to produce a line of merchandise to be sold in conjunction with the tour. Each product bore the notice "Licensed by BBC Worldwide and The Big Laugh Comedy Festival Sydney. Reproduced with the permission of Graeme Garden, Tim Brooke-Taylor and Bill Oddie."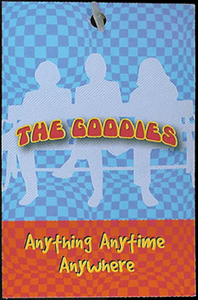 hang tag for Goodies
tour merchandise
The initial line of tour merchandise consisted of t-shirts, caps, pins, magnets, and key rings which made use of the Goodies logo as well as publicity photos of the Goodies on their trandem, sitting on a park bench, and striking a Funky Gibbon pose. These items, as well as the two Australian Goodies DVDs available at that time (The Goodies - 8 Delicious Episodes & The Goodies - A Tasty Second Helping), were sold at the show venues, at ABC Shops nationwide, and via Playbill Merchandising's website. Tour programs were available at the shows and from Playbill's website.
In addition to the items from Playbill, a company named Annabel Trends produced four licensed Goodies items - two different aprons, an oven mitt, and a pot holder. These also made use of the Goodies on the bench and the Funky Gibbon images. The Annabel Trends merchandise was sold at the ABC Shops, although it did not become available until towards the end of the tour.
When The Goodies returned to Australia in November 2005 for the second leg of their tour several pieces of merchandise were added to the Playbill line - a coffee mug and two additional t-shirts. A second version of the tour program was produced for this run of the show.
(Also included on this page are the programs from the I'm Sorry I Haven't A Clue Stage Tour and Bill Oddie's An Oldie but a Goodie tour).
| | | |
| --- | --- | --- |
| | Goodies tour merchandise on sale in ABC Shops, Australia (March 2005) | |