John Peel's Dandelion Records (DVD)
Recordings and stories from some of the musicians who were on John Peel's Dandelion label, including Bill Oddie. The entire DVD is approximately 6 hours long and comes with a 14-page DVD book on Dandelion Records artists.
Here is a track listing from the video's website:
Intro incl. John Peel: 12 minutes
Kevin Coyne and Siren: 1:08
Dave Clague talks about Kevin Coyne and Siren: 38 minutes
Medicine Head/John Fiddler: 1:36
Gene Vincent: 4 minutes
Stack Waddy playing and talking, including Sheila Ravenscroft: 30 minutes
Bridget St. John interview and gig excerpt: 30 minutes
Tractor: 50 minutes
Tractor interview and Dandelion and Tractor studios: 23 minutes
Principal Edwards: 5 minutes
Bill Oddie: 6 minutes

DVD
NTSC Region 1
OZIT DVD007
Released 2009


Bfi DVD
Gone Birding Board Game with VHS Tape
Gone Birding! - A full-color video adventure in bird identification introduced by Jane Alexander. Hosted by Bill Oddie and Peter Alden
Description from the back of the box: "Join award-winning actress and birder Jane Alexander, British television bird-show host and comedian Bill Oddie, and renowned American bird-tour leader and author Peter Alden, as they lead you on a spectacular birding tour of North America.
Gone Birding is the quickest and most entertaining way to learn bird identification. The game provides good competitive fun for novices and experts. The object of the game is to find the most bird species on a grand birding tour of North America. Players use the video to determine the number of spaces they can move on the game board.
Includes a 2 hour (126 minutes) video filmed by noted wildlife cinematographers, contains 10 separate games, nearly 1,000 scenes of over 350 species of birds in clorious color."
The gameboard is a map of North America featuring habitat zones and over 100 top birding locations."
For 1 to 6 players, ages 7 to adult
Copyright 1988 Rupicola Productions, Inc.
Walpole, MA USA
Reissued as North American Edition in a smaller box
Copyright 1994 Artco/Rupicola
NOTE: This game should not be confused with Bill Oddie's Great Bird Race Game, which does not come with a video.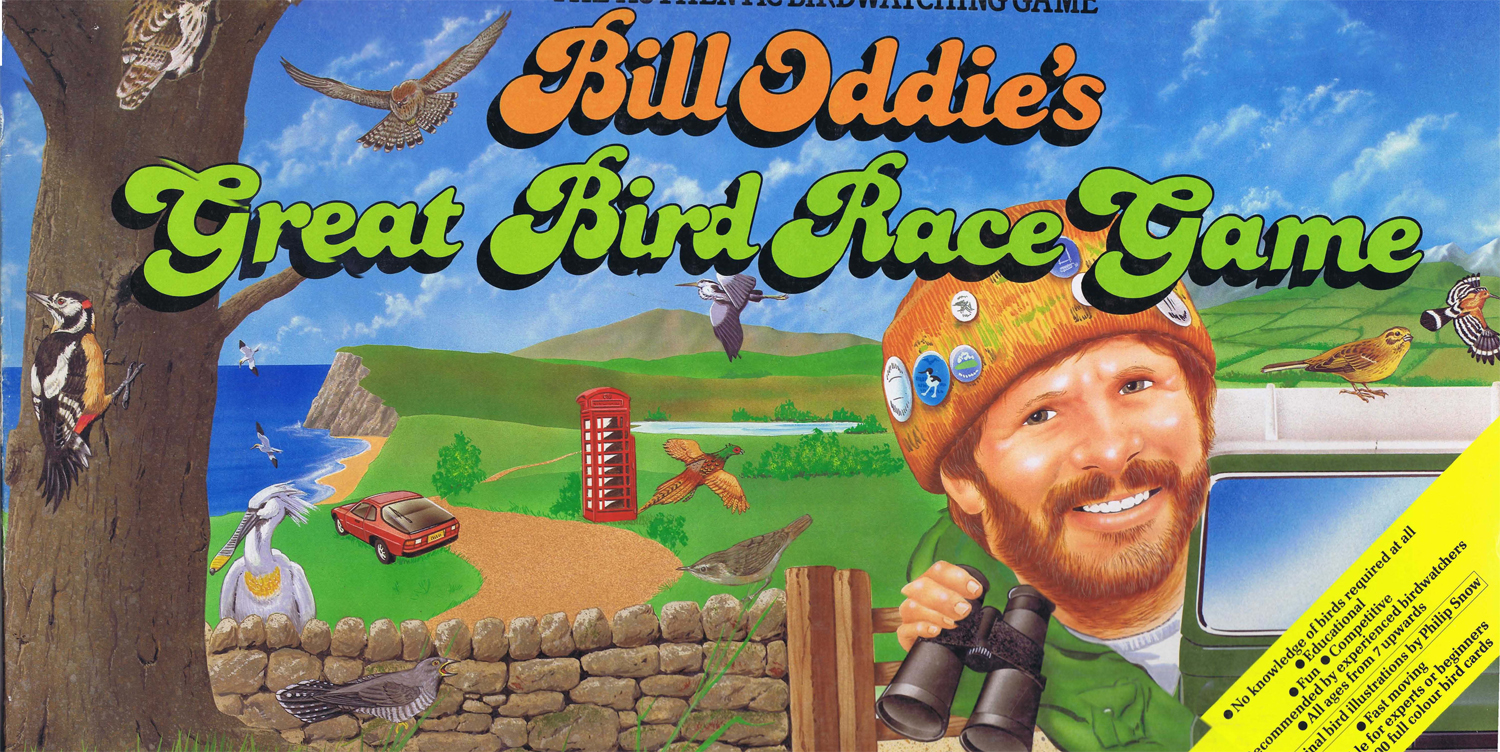 That game is described as "the authentic Birdwatching game" and makes use of cards illustrated by Philip Snow for to give a player "all the thrills, the surprises, the near misses and the total dip-outs [of birdwatching] all in the comfort of your living room."